How you learn with the Open Training College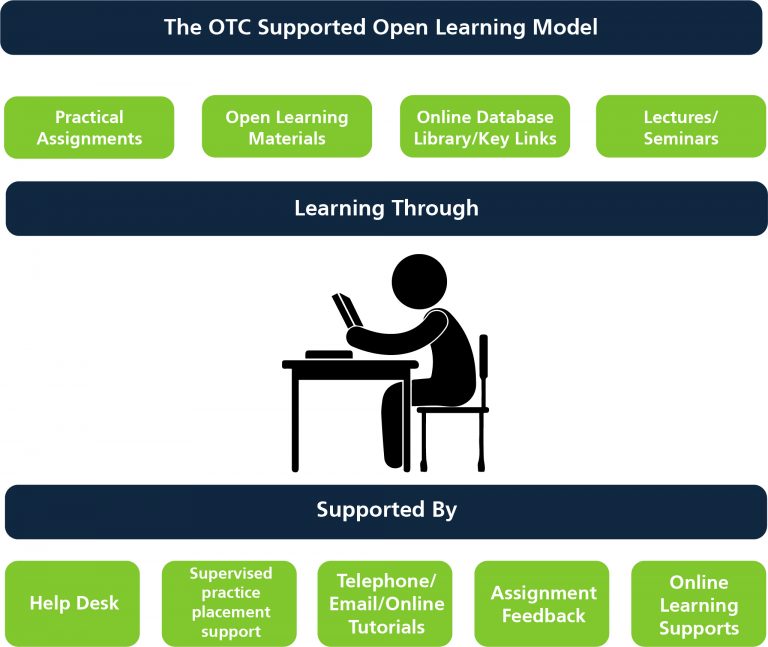 Human service and non-profit professionals have specific learning needs:
Most are faced with having to combine work, life and learning. Balancing this can be very difficult. Effective training has to accommodate this reality.
The need for learning materials to be relevant and-up to-date is not an aspirational goal. Its  an absolute requirement because, for training to be useful, it must enhance a person's ability to provide better support to service users.
The learning experience that works best for adult learners is not necessarily the same as the one that works for people transitioning from 2nd to 3rd level education. The philosophy and operating principles of an adult learning college has to address this.
The college has set these learning needs as the fundamental challenge it faces and we have spent over twenty years developing a learning delivery model, designed specifically to address these needs:
At A Glance
What  - A student-centred way to learn
Why - Professionals have specific learning needs
How - Practical, student-centred learning with a variety of supports
Supports - Tutors, dedicated support staff, the learning community & workplace supports
Our approach allow people fit learning into their working/family life and not the other way round.
Our learning materials are sector specific, practical and always up to date.
Encouraging the application of knowledge/skills acquired during the programme is built into the fabric of course materials and in the kind of assessments that determine your progress in the course. You not only learn by doing, you achieve success by it also.
To maximise the possibility of success, we provide a range of supports that encourages us all to learn together. These supports are not simply academic because, frequently, it is not academic ability but a lack of self-confidence or a sense of isolation that leads to the greatest problems for students.
Our approach is known as the Supported Open Learning model. It is designed specifically to allow frontline workers and managers benefit from access to accredited, flexible educational opportunities that transform their ability to implement best practice.
Below is a short animation which illustrates how the Supported Open Learning model works in practice by answering two fundamental questions that pretty much all students ask:
How do I learn?
What supports will I have while I'm learning?
How Do I Learn? - More Detail
Open Learning Materials
Students are provided with high-quality open learning materials. These are written by people who are both expert in the subject matter covered in each module and in creating materials that:
Specifically address the learning needs of people working in human services and non-profit sector; and,
Accommodate the work and life pressures peculiar to people working in the area.
These materials are constantly updated to ensure that the reading and learning activities reflect and address contemporary practice.
The style is geared towards adult learners thereby ensuring the materials are practical, relevant to the learner's situation, builds upon existing knowledge and problem centred. In addition to the content; learner activities, key links, case studies and important practice discussions are provided.
Online Resources - Database/Library/Key Links
The College provides access to a number of key information resources. All these resources are online and therefore accessible anytime, anywhere. These include EBSCO SocIndex (full text), and Emerald. In addition, the College provides links to the most up to date, best practice resources on the web.
The College is constantly updating its online resources. We would strongly recommend student develop to use our various online resources as a research and study tool as a matter of priority to support both their learning and practice.
Practical Assignments
Most modules are assessed through the students' application of a best practice model to their place of work. From their experience the students are asked to identify the key supports, barriers and areas of opportunity. Finally, after each assignment, the students are asked to reflect on their learning from the module and identify how their practitionership will change in the future
This process has led to positive professional developments for both the student and the agency. The student is assessed through a variety of mechanisms including the completion of online activities, participation on discussion forums and wikis.
Workshops/Seminars
External presenters, module writers  and members of the College team facilitate these workshops. These workshops give students a chance to get to know each other and work together on activities, in small groups,  in a stimulating face to face environment. In addition provide an excellent opportunity to network and discuss practice issues with other practitioners from across Ireland.
What Supports Do I Have? - More Detail
Tutorials - Telephone/Online/Email/Face to Face
Students are allocated an individual tutor each year. Regular contact is maintained through tutorials during which any or all of the following areas may be discussed:
Student's progress with the learning materials
Assignment preparation and feedback
Work-based support
Revision of study topics
Local study groups
Additional issues that may arise relevant to the learning process
The College delivers tutorial supports in three ways, via the telephone, through email or in online group tutorials.
Feedback (Formative and Summative)
The College provides many opportunities for the student to gain feedback on their progress and understanding, as the student progresses through the course. These opportunities include online quizzes, peer feedback through discussion boards and chat and the tutorials. 6 weeks after the completion of your assignment the College provides the student with a clear rubric that outlines a student's performance against the key learning outcomes in the module.
Online Supports
The College has a dedicated e learning team to support you through your online work (contactable anytime through elearning@opentrainingcollege.com. A key area of support is before commencing any course the student must complete an online induction course that provides the student with the key skills required to study effectively online.
Workplace Supports
From the start, the College asks the student to identify a key supervisor/mentor in their work place. The College in addition, assists the student in interpreting and complying with agency requirements in undertaking study and assignments.
The College provides immediate office hour support on IT, academic or practice issues.
Contact us using the form below if you want to know more about the Supported Open Learning Model.