QQI Level 5: Using Lámh in a Total Communication Approach
This programme is for those seeking further comprehensive training in how to better facilitate Lámh signing for individuals using a total communication approach and who may want to progress to Lámh Tutor Training.
Overview: This key training in Lámh signs, signing programme implementation and total communication, addresses communication in the context of advocacy and self-determination. Participants must have completed a Lámh Module 1 course.
Deliverers:  Margaret Farrell and Eileen O'Donnell, both Lámh Tutors and Speech Language Therapists highly experienced in the area of disability and communication. A highlight of this programme will be hearing from real Lámh Experts by Experience, Lámh Users, their family members and supporters.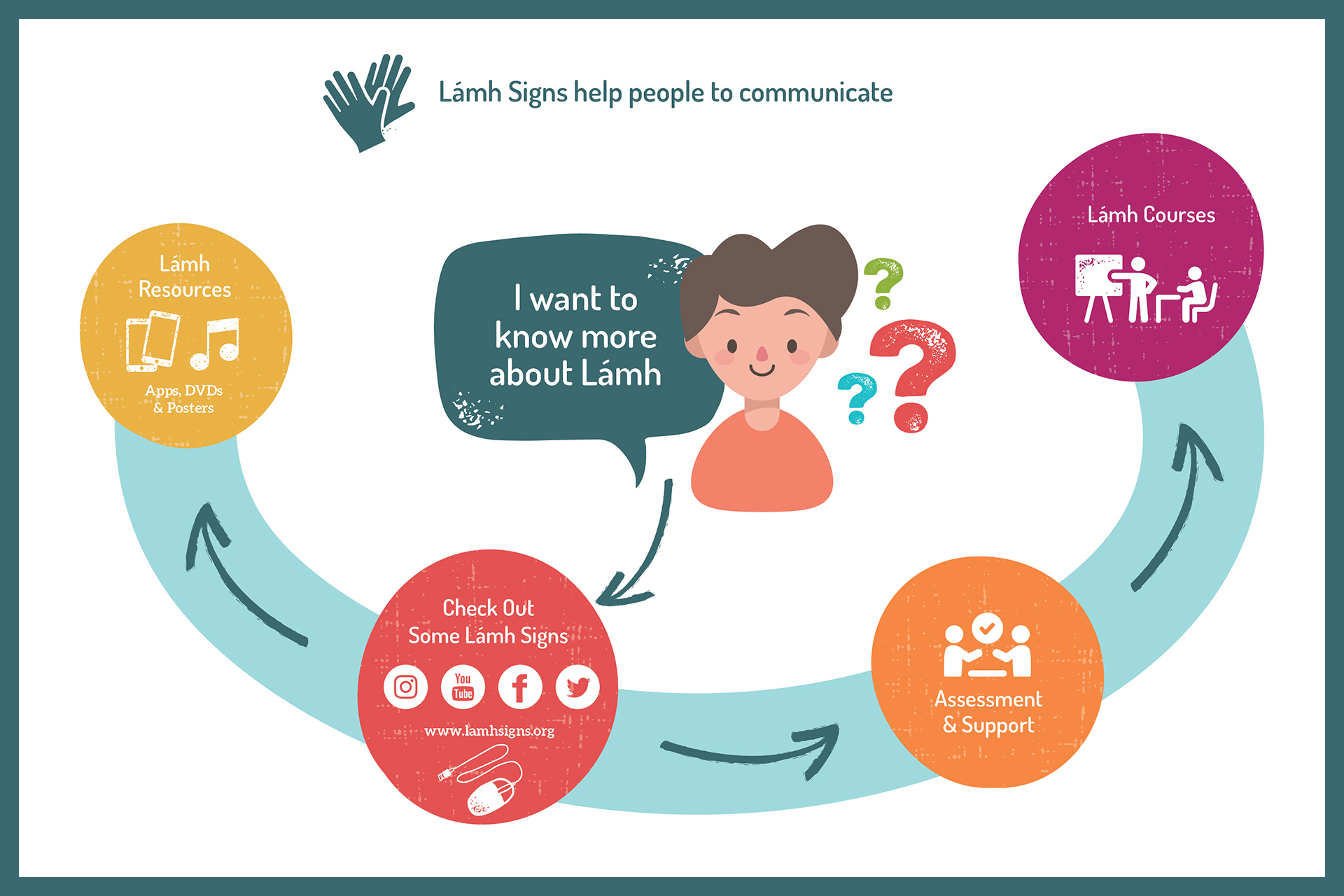 This 4-day course includes sign training in 400 signs, Lámh assessment process, implementation of a signing programme as well as content on advocacy, choice-making, legislation and Total Communication, with certification by QQI and post-training support from a Lámh Tutor. Following the course dates, applicants will have 10 weeks to complete an assignment. Participants must identify an individual with whom they can carry out the assignment, prior to attending the course.
Participants must already have attended the Module 1 Lámh Course.
Using Lámh in a Total Communication Approach has been developed by Lámh and the OTC. This programme leads to two QQI Level 5 Award components, Facilitating Communication through Lámh and Total Communication. These components are part of the QQI Level 5 Intellectual Disability Practice Major Award (5M1761).
This course is for those who use Lámh extensively in their work and are involved in
supporting Lámh users and their families, and is suitable for those working with adults with disabilities as well as children of all ages, and with a range of communication impairments.
Completion of the full course and assignment is also a requirement for training as a Tutor.
Participants will receive:
Lámh Sign Books 2 & 3 Lámh Record Form
Participant Handbook QQI briefing notes
Handouts Post-training phone support from a Lámh Tutor
Lámh Assessment Booklet Full Access to Lámh online digital resource
The running of the course is dependent on a minimum attendance of 16 participants.
For further information, please visit: https://www.lamh.org/training
If you have any additional queries, you can contact Lámh at:
*Hours: 9am - 5pm, Mon to Fri.