OTC Graduation Day: the first group to achieve the QQI Certificate in Patient Safety Complaints Advocacy have graduated!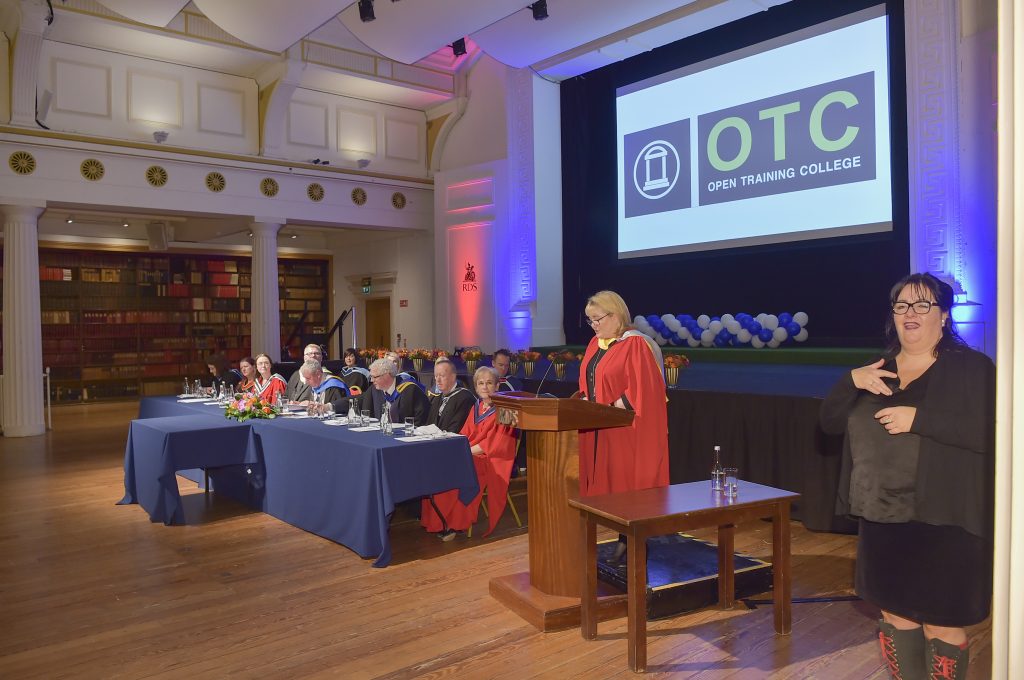 The annual Open Training College (OTC) conferring ceremony in November in the RDS Dublin is always a special occasion to celebrate and acknowledge the graduates of the College. Something new is always welcomed by the OTC and this year saw the conferring of a level 7 award to those who completed our new Patient Safety Complaints Advocacy course.
It is such a joyful day for the college team meeting up with all the graduates and their family and friends who have been instrumental in supporting our graduates to succeed on our courses and achieve a valuable qualification, sometimes under difficult and challenging circumstances. They are a very committed group of practitioners who juggle work and personal commitments with aplomb and persevere to achieve their valued awards.
Congratulations go to all the recent graduates of the OTC who attended the event. Special mention goes to Peta Ellington (The Gerry Clarke Award), Anne-Marie Organ Vaughan (Social Care Ireland Award for Academic Excellence), and Nadine Foley Sethi  (The Wheel Management Award for Academic Excellence) for achieving their respective 'Student of the Year' awards on the day. The awards were presented by Evelyn Clarke and by Dr Karen Finnerty, College Director.
182 graduates received accredited awards (QQI) on the day, which included:
BA (Honours) in Professional Social Care (Disability)
BA in Professional Social Care (Disability)
Certificate in Applied Management
Higher Certificate in Applied Management
BA in Applied Management
Certificate in Patient Safety Complaints Advocacy
Certificate in Supported Employment
Huge congratulations to all of our graduates of 2019!